Industry Engagement Forum 4 – Let's Innovate in Christchurch
On the back of 3 successful events where we have explored Next Generation Triple Zero (NG000) Strategies and the future communications environment, this year's Industry Engagement Forum will explore innovation in the public safety sector. We are pleased to announce that we have secured key guests from Europe and New Zealand to provide insights into developments in these jurisdictions. The European Emergency Number Association (EENA) has agreed to participate in our forum and will be the key note session on activities and innovation in Europe. With New Zealand leading the way in innovation in public safety, we will hear from those involved in the Innovation Lab; how New Zealand is responding to the Christchurch disasters; and how start-ups are leading the way. With New Zealand being the first country outside of Europe to nationally deploy Google's Android Emergency Location Service (Google's implementation of Advanced Mobile Location (AML)) and one of the first countries to deploy Apple's iOS AML, the drivers of this initiative will also provide insights into the benefits and success of this implementation. As with past engagement days, the event will be held as a workshop style session, whereby participants will be asked to participate in sessions to assist public safety practitioners in planning for the future.
Industry colleagues – get your tickets here
Emergency Communications Centre of the Future – White Paper Released
The National Emergency Communications Working Group – Australia and New Zealand (NECWG-A/NZ) has joined with the Queensland University of Technology (QUT) to develop a White paper on the Emergency Communications Centre of the Future (ECCF).
The paper focusses of the disrupters, traits, building blocks, and themes that will move the ECCF from Reactive to Proactive.
The paper provides thought for Emergency Service Organisations, government, and industry to consider as they address the challenges of rapidly changing technology, community expectations, and service innovation.
The White paper and summary poster can be accessed from our Publications Page.
NECWG-A/NZ releases White Paper on Mobile Location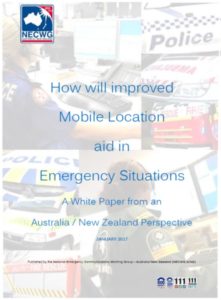 Mobile location is the topic for emergency communications.  It is a focus for the public safety sector across the globe.  NECWG-A/NZ has released a White Paper to discuss the merits, considerations, benefits, risks, and next steps in the development of mobile location identification.
The White Paper can be accessed here or by going to our Publications page
Australia moves towards Next Generation world
Emergency communications in Australia is on the verge of implementing Next Generation Triple Zero capabilities with federal and state support for the NECWG-A/NZ developed Next Generation Triple Zero strategy.
Why is Next Generation Triple Zero important? (Interview with Chair NECWG-A/NZ – Part 1: Part 2)
Emergency+ app and Triple Zero (000)
Australia's Emergency+ app for iOS, Android and Windows devices to:
provide the caller with information about when to call Triple Zero (000)
provide the caller with information about who to call in various non-emergency situations
State Emergency Service (SES) (132 500)
Police Assistance Line (131 444)
Crime Stoppers (1800 333 000)
Health Direct Australia (1800 022 222)
assist the caller to dial the relevant number
display the GPS coordinates of the phone's location that the caller can read out to the emergency operator.
The app is free of charge and available for download from iTunes, Google Play and Windows Stores.

Triple Zero Kids Challenge
Kids will learn about getting help by playing games and solving mysteries. They'll learn about safety messages and hear what happens when you call Triple Zero. Along the way they will meet the "Zeros" as they are guided step by step through the game.